Autumn & Winther 2023 Collection
View all
Junge Coats ®
Excellent
Rated 4.8 / 5 based on 106 reviews
Having purchased a Junge coat…
Having purchased a Junge coat previously and been very pleased with not only the styling, warmth and quality, I decided to look at Junge again for my new winter coat. Ordering was simple, the updates on my purchase appreciated and when it arrived, it was very nicely presented. Most exciting of all, it is gorgeous, everything I expected and I am looking forward to be being cosy all winter long
Lovely quality jacket
Lovely quality jacket. Perfect fit and colour. Shopping with,and service from your company is excellent.
Perfect service
Service second to none answered all my questions re tax and returns policy quickly. The product is top quality packed beautifully. I know this jacket will last a long time chic classic lightweight styling… would recommend this product.
Your product quality is superb
Your product quality is superb. It was extremely easy to place an order. Packaging and delivery were also perfect. I have rarely been more satisfied when ordering on the internet!
Love these jackets !
Love these jackets, now my second one. So light to wear and great range of colours. Came within a few days and no postage. The free liquorice has seen us getting a regular supply from Lakrids By Lülow !
Excellent company to deal with
I am absolutely delighted with my purchase from Junge. Their customer service is beyond excellent and the quality of the garment is first class. Five stars for Junge.
Style 0223-2272-68

Jacket with quilt in big wave, with details in contrast colors and rounded slit. The jacket has an hood with wide strings on the edge, zip closure and two pockets on the front. The jacket is lined and has an inner pocket with zipper.

- Shell: 100% Nylon
- Lining: 100% Polyester
- Padding: 100% Polyester
- Hood
- 2 way zipper closure
- Windcuff in sleeves
- Slanted pockets

Fitting: Oversized fit
Cbl. 98 cm

The model is wearing a size 38
Height: 181 cm
Bust: 84 cm
Waist: 65 cm
Hips: 96 cm
The Junge Journal
View all
Find the Perfect Winter Jacket for Women
As the cold winter months approach, it's essential to have the perfect winter jacket. The winter season can be quite long, so if you want to avoid feeling chilly, your winter jacket should keep you...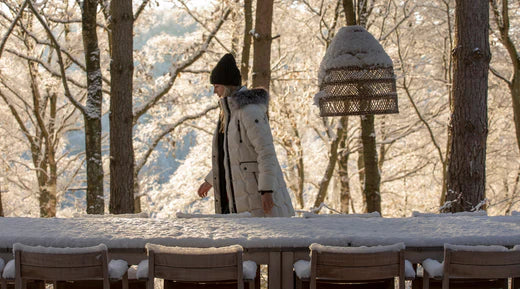 How to Best Care for Your Junge Down Jacket
A down jacket from Junge is not only a stylish and warm garment but also an investment. To ensure that your down jacket maintains its insulation and does not clump after washing, it's important to ...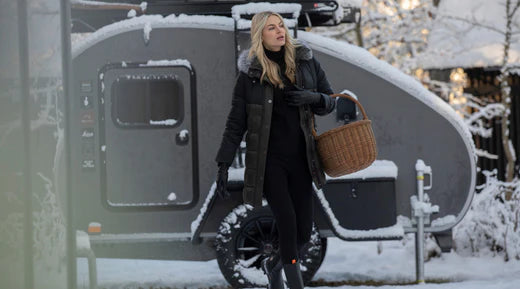 When it comes to jackets and coats, fit is crucial for both style and comfort. At Junge, we understand the importance of offering fits that cater to different preferences and occasions. Therefore, ...